Just another WordPress site - Ruhr-Universität Bochum
Travel Information
Directions to ICAMS on the Campus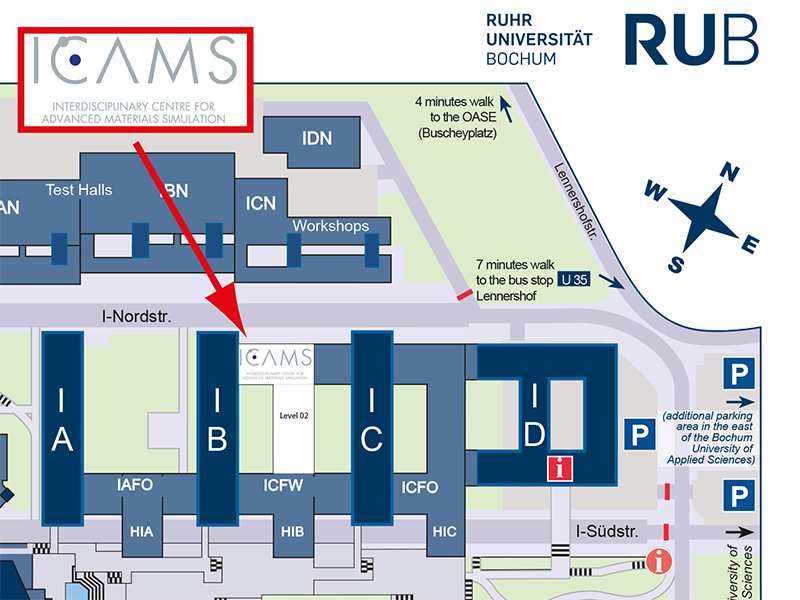 On the campus: 
From the subway station Ruhr-Universität:
Take the stairs, turn right in the direction of the university and keep left after crossing the bridge (flag poles on the left). Take the spiral staircase down there, walk straight ahead and cross the road in front of the SSC building. Head east for the main entry of the IA building and enter it on level 02. Now walk straight along the floor passing the IA and IB building. THe second door on the left after IB is the entrance to ICAMS.
From the parking site of Hochschule Bochum (Bochum University of Applied Sciences) at Schattbachstraße
Walk past the Bochum University of Applied Sciences in Lennershofstraße towards the ID building. Turn right and follow I-Nordstraße until you reach the main entry to the IC building. Enter it and walk past the green seats. take the stairs or elevator to level 02 and head towards HIB. On the right side you will find the enty to ICAMS.
Interdisciplinary Centre For Advanced Materials Simulation
Ruhr-Universität Bochum
Gebäude IC
Universitätsstr. 150
44801 Bochum
Germany
ICAMS is located on level 02 between the IB and IC buildings.
Address for your navigation system is Bochum, I-Nordstasse.
Parking on campus might be difficult sometimes. A huge parking lot can be found in Schattbachstrasse, close to Hochschule Bochum.