Just another WordPress site - Ruhr-Universität Bochum
Input Data and Validation
Research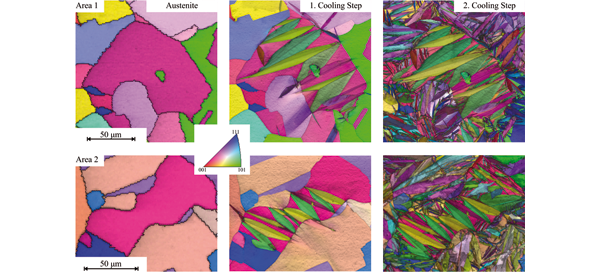 EBSD images showing the step-by-step martensitic transformation in the Fe-30 at.% Ni system.
ICAMS, RUB
The ASG Input Data and Validation was instrumental in implementing ICAMS at the Ruhr-Universität Bochum after its foundation in 2007. It continuously interacts with ICAMS scientists in various research projects. Examples for collaborations are:
high temperature plasticity of tempered martensite ferritic steels,
formation of Laves phase in tempered martensite ferritic steels,
the coarsening of Ni4Ti3 particles in NiTi shape memory alloys,
nanoindentation of pseudoelastic shape memory alloys,
and micro shear testing of gold single crystals.
The ASG study group IDV is presently at the heart of a collaborative research centre on Ni-base superalloy single crystals funded by the German Research Foundation (DFG), SFB/TR 103 which started work in 2012. All three ICAMS departments actively participate in SFB/TR 103 where they promote the field of scale bridging modelling.