Just another WordPress site - Ruhr-Universität Bochum
Processing and Characterization
Members
Prof. Dr.-Ing. Ulrich Krupp
Prof. Dr.-Ing. Sebastian Münstermann
Research
Our ultimate aim is to understand the mechanisms behind the physical, mechanical, and microstructural properties of steels and other advanced engineering alloys, enabling us to improve their macroscopic behaviour through transformations and variations of the microscopic phases, and to design advanced solutions for alloy production, processing, and application. In our scientific approach, we combine different mechanical and physical testing methods with advanced numerical approaches in order to investigate the bulk properties of different metals and alloys at sub-zero temperatures as well as room and elevated temperatures.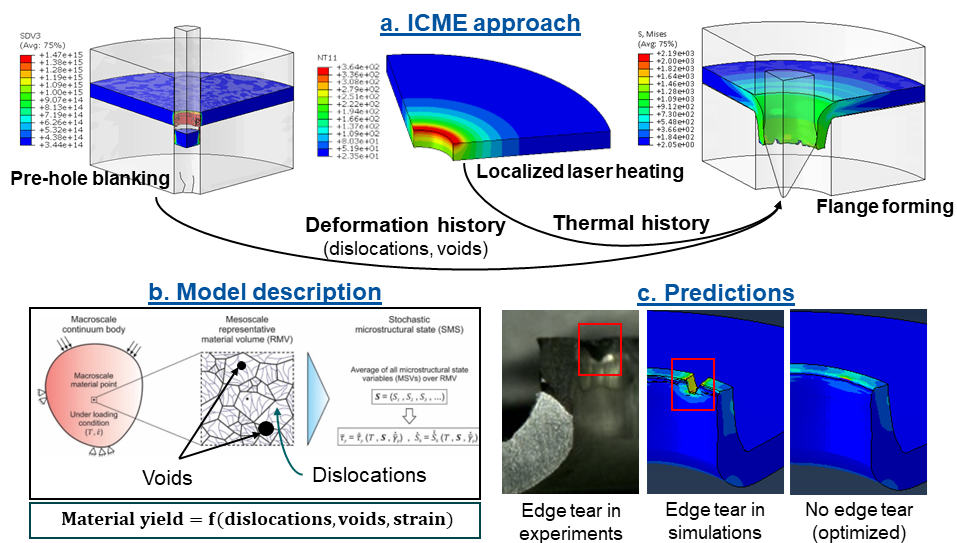 a. process chain simulations using an ICME approach; b. TMM material model definition; c. experimental outcomes and predictions made using TMM simulations.
IEHK, RWTH Aachen
With a suitable combination of microstructure design, process optimisation, and mechanical testing, it becomes possible to introduce more efficient process parameters, innovative applications, and new materials. Our simulation work focuses on the integrative numerical modelling of microstructurese evolution during processing on different scales.
Our objectives are to combine physical and phenomenological approaches, to evaluate modelling approaches, to describe processes and process chains by numerical means, and to predict the evolution of microstructures and properties by using combined thermodynamical and finite element calculations of representative volume elements (RVEs) on the microstructural scale. By means of simulation, we aim at developing materials and processes to design and optimise production parameters and to predict the materials' behaviour in relation to the microstructural description.